DAY 1
TINTORERAS SNORKELING TOUR
We'll greet you at the pier and head to our hotel.
In our first tour we explore Tintoreras, a set of small islets filled with hidden coves and beaches. Here, we will find the peculiar, endemic Galapagos penguin, the only one that lives close to the Equator line, blue footed boobies and other marine life. From our motor boat we´ll jump into the water to explore the underwater
life. Sea lions, rays, schools of tropical fishes, marine iguanas and with good luck penguins swimming and fishing. At the end of the activity, we´ll go to the beach where we finish our tour.
DAY 2
MANGROVE FOREST HIKE AND WETLANDS- BREEDING CENTER
The next stop in Isabela Island, are the wet lands. Our hike takes us along immaculate beaches, into an alluring poison apple forest and a lava tube cave, and through brooding mangroves and brackish lagoons. As we pass through these varied ecosystems, we'll see lots of giant tortoises, flamingos, and other birds. During our hike we have some interesting stop next to the coast where we´ll see huge marine iguanas. Here we have one of the biggest subspecie of this archipelago.
In the afternoon. We´ll visit the wetlands in Isabela. Our hike takes us along the brackish water ponds, into an alluring poison apple forest, and through brooding mangroves. At the end of this trail we´ll visit the giant tortoises breeding center where we'll learn about the ongoing conservation efforts to protect the future of the Galapagos.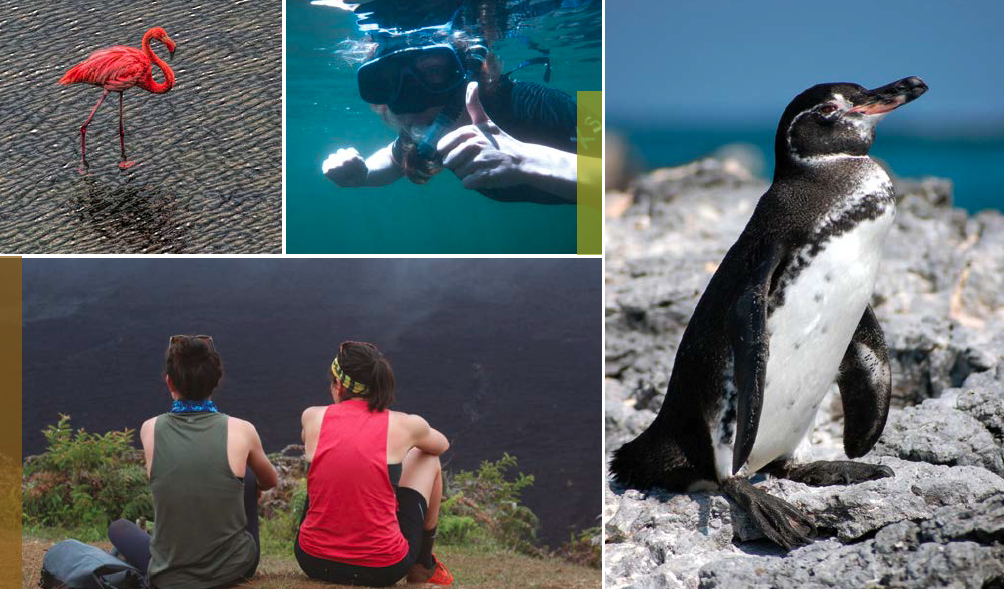 DAY 3
SIERRA NEGRA VOLCANO HIKE
This morning, we'll drive up the flanks of the Sierra Negra volcano until the road ends. Here, we continue on foot and hike into a surreal world of geological history.
On the hike up, we can admire incredible views of the surrounding volcanoes and sea, as well as the distinctive highland ecosystem around us. But the real prize is
at the top – when we arrive at the rim of the Sierra Negra volcano, we are treated to a truly breathtaking vista.
We'll hike the rim of this enormous crater and, if we feel energetic, continue on to the caldera of Volcan Chico, an otherworldly landscape of vibrant hues created by sulfur deposits. Then, we'll head back to the lowlands to spend our afternoon on the perfect beaches.
DAY 4
TRANSFER OUT
Finally, it's time bid a fond farewell as we transfer to the airport or to the pier.
What to bring: light non-cotton clothes, sun hat, water bottle, bathing suit, sandals or walking shoes, sunblock, camera.
Included: Bilingual assistant, Bilingual Certified Guide, snorkel equipment.
Not included: Airfare to/from Galapagos, Galapagos National Park Entrance Fee, Galapagos Transit Card, transportation to Isabela, Isabela entrance fee, taxes, tips, and meals not detailed, accommodation, not detailed stuff.
Tours to Galapagos from Traveltips in partnership with Casa Opuntia