Effort: Moderate.
Duration: 5h
Highlights: paddle the best kayaking route in Galapagos, observe marine iguanas, sea lions, blue footed boobies and more marine birds, enjoy panoramic views of Kicker Rock and Wizard Hill.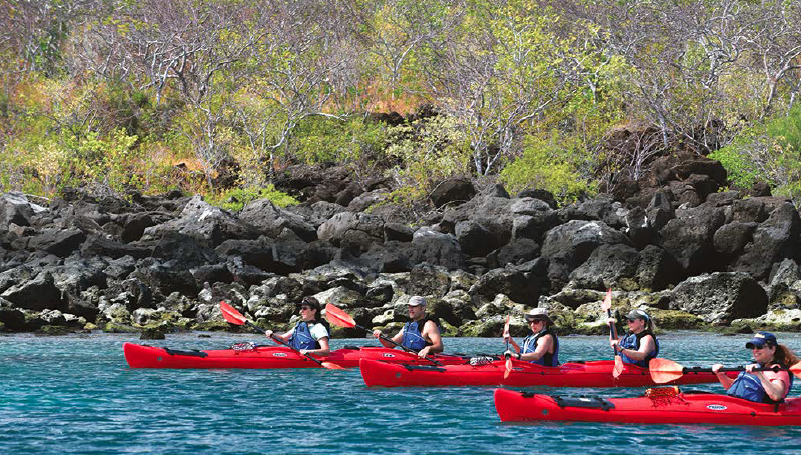 Our kayak expedition starts at Playa de Oro in Puerto Baquerizo Moreno. During our first strokes following the coast, we can enjoy the panoramic views of the main town and the beautiful highland of this island before we leave Wreck Bay to continue to the northern coast of San Cristobal. After our first native fauna encounters we´ll reach Darwin Bay, this is the place where the HMS Beagle disembarked for the first time in the islands. Here we´ll see the beautiful Frigate Hill called like this for the dozens of frigate birds that fly around. Following one of the most beautiful volcanic coast of Galapagos, we´ll paddle in the way to Playa Ochoa while the frigate birds nest in the surrounding native vegetation, blue-footed boobies are diving as torpedos fishing sardines, marine iguanas, sea lions, and sea turtles circle our kayaks in the calm waters. After almost 2 hours on the water, we ´ll arrive at Playa Ochoa, a beautiful white sand beach where we are going to take a little time to relax. This paradisiacal beach is home of playful sea lions, marine birds and crabs, in the water is possible to see sea turtles, rays and tropical fishes. Then, after this amazing stop, we´ll paddle back to Puerto Baquerizo enjoying the landscapes of San Cristobal. Finally, we´ll finish our adventure where we started in the morning.

What to bring: Long sleeve non-cotton shirt, sun hat, bathing suit, sandals or water shoes, water bottle, sunblock, camera.
Included: Bilingual certified assistant, snorkel equipment, water, expeditions or sit on the top kayaks and personal equipment (PFD or life jacket and paddle) and support vessel over 5 pax.
Not included: Airfare to/from Galapagos, Galapagos National Park Entrance Fee, Galapagos Transit Card, meals, acommodation, tips and extra expenses.
Tours to Galapagos from Traveltips in partnership with Casa Opuntia